Bloomberg Strategist: This Is The Defining Moment To Buy Bitcoin
War and Bitcoin
The escalation of tensions between Russia and Ukraine continues apace, and all global markets have plummeted today. During this crisis, the leading cryptocurrency Bitcoin (BTC), which was trading for $34,000 at the time, retreated then recovered. This, according to a well-known analyst, is the perfect time to invest in Bitcoin.
Bitcoin Tension
The digital asset, Bitcoin (BTC), rose little after Wall Street began on February 24, with markets still focused on Russia's invasion of Ukraine and its aftermath.
BTC/USD was nearing $36,400 on Bitstamp two hours after the opening bell, up to $2,000 from its recent lows, according to data from TradingView.
Russia's nighttime foray into Ukraine, which persisted and ricocheted across global commerce, rocked jittery markets.

Trading fatigue? Try HHC-O, hemp-extracted & energizing! Visit GoodCBD.com to calm those dip days.
Stock Market Stress
The stock market in Russia, however, suffered a different amount of stress, with MOEX losing 50% of its value and briefly suspending trade.
Bitcoin, which had been on the decline earlier in the day, has made a nice recovery.
BTC/USD trades at a $36k amid crisis. Source: TradingView
Sahil Sakhrani, a market analyst at crypto research firm Macro Hive, said:
"At the start of the week, escalating tensions between Russia and Ukraine had hit crypto markets hard. Our crypto indices were already showing sizable losses across all sectors."
Sakhrani cautioned that the imposition of fresh sanctions against Russia's economy might exacerbate the issue further and that Bitcoin's relationship with traditional stock markets should not be neglected.
Mike McGlone Says This is A Buying Opportunity.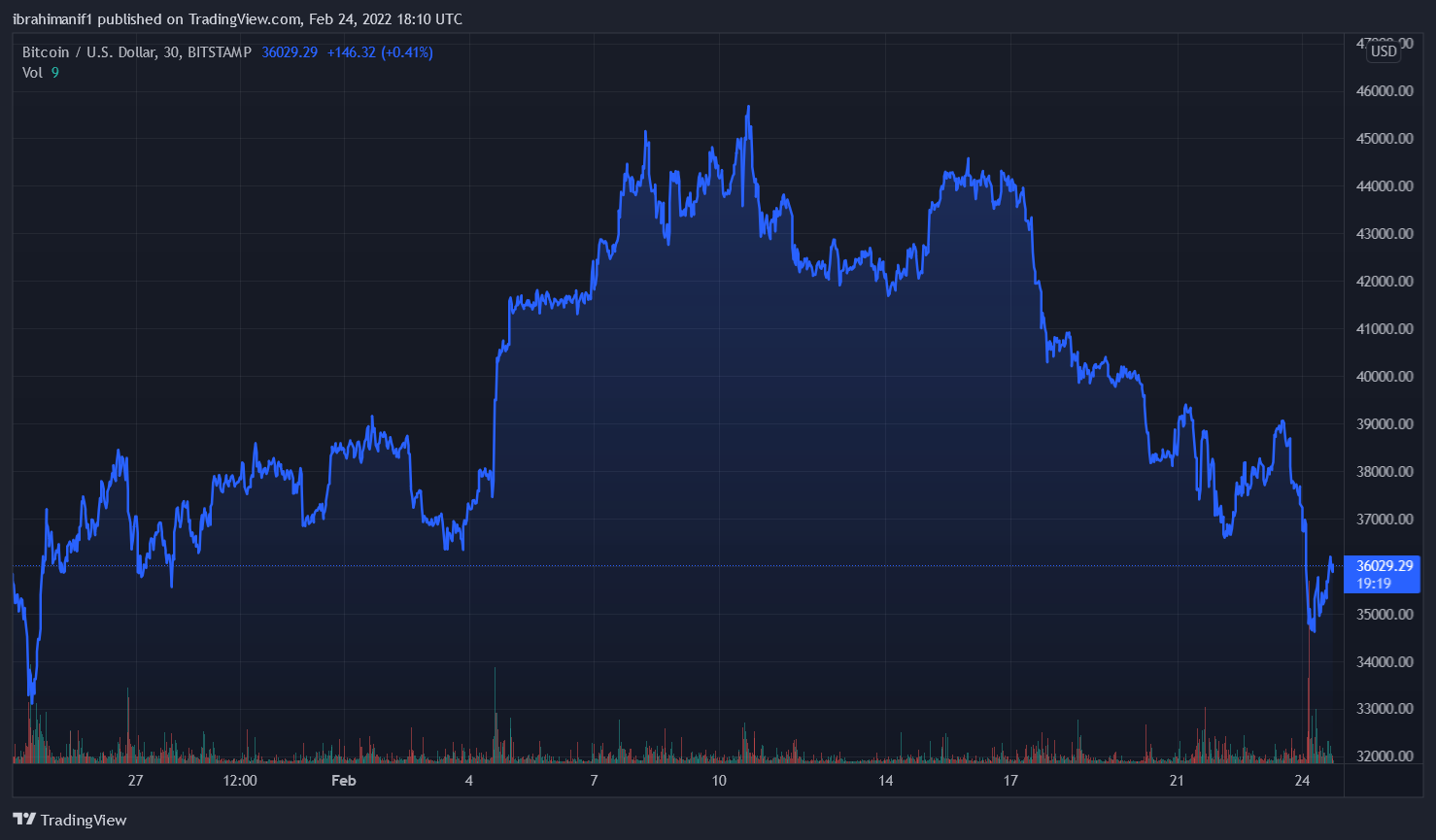 Opportunity for Bitcoin
Bloomberg senior commodity analyst Mike McGlone told Scott Melker, presenter of the Wolf of All Streets podcast, that the markets are overdue for a large correction, most notably inequities, but also in the crypto market.
McGlone, in particular, believes that this is a "defining moment" for the digital asset; despite the uncertainties, he sees this as a "very good buying opportunity" for long-term investors who have been sitting on cash.
The commodity strategist said:
"The key thing to point out here is cryptos and Bitcoin are still risk assets and they're giving up back a lot of gains. I still think there is more pain there. I don't think Bitcoin gets much below $30,000 its holding good resistance around $40,000. I think this is ultimately going to be a very good buying opportunity for Bitcoin for longer-term traders. It's going to be looked back upon in history as a defining moment."
Related Reading | Cannabis Makes Mainstream Moves with Pepsi